Hello all who are reading this. I'm back up at school after my long Summer break of working and playing videogames. It's been about 3 weeks since I've moved into my Apartment with my girlfriend and our friend, and so far I'm really loving apartment life. I get better meals, more privacy, and it's quieter and more home-y.
Of course that's not to say that there weren't a few touch-ups that had to be done after moving in; there were actually quite a few. For one, we rented a non-furnished apartment to save money, so carrying all the furniture up two flights of stairs took quite a bit of time. I also had to caulk a giant crack that ran alongside the tub with silicon that way water wouldn't leak under the floor. The apartment maintenance also had to replace the tub faucet and toilet seat because they were very old.  I had to caulk a crevice in the kitchen counter where roaches were hiding, and I had to lay traps and poison to eliminate them – their numbers have dropped drastically in the last few days. The kitchen sink faucet needed replacing, and I added a water filter to it. We also had to get a WiFi Router, and a cable box (which was free).
So yeah, the apartment might not sound too nice, but I like it especially for how cheap it is. It's pretty spacious, and its cozy. It's a two minute bus ride in the morning although in the afternoon you're lucky if you can board a bus with the amount of kids they cram on it after 2 PM.
I may be warming up to Apartment life, but school is another story. I'm just finding it boring at the moment. I'm sure it will get a little better as the semester goes on. I just have to get back into the groove of things with studying and reading textbooks and what not.
On another note, a lot of things seem to be breaking down the past week. My girlfriend's espresso machine broke, so I went out and bought her a really nice new one as an early anniversary gift, and tonight my printer decided to hit the crapper. Luckily financial aid was dispersed today, so I have some spending cash to get a cheap one.
Now on to video games, I've been playing Chrono Trigger DS since I moved in to the new place, and this weekend I finally mustered up the time to do all the sidequests and finish the game. I must say I was actually pretty blown away by the story especially considering how old the game is. It's probably one of the better RPG stories I've played through, and there are  many moments that are very dark and almost shocking. Not only is the story amazing, but the fact that there are multiple outcomes to many events and can end in 13 different ways depending on when you battle the final boss which you can do in the first five minutes if you so choose makes this game very revolutionary for its time. I'm sure Chrono Trigger has influenced many game developers over the last two generations who have strived for the Choose-Your-own story type gameplay.
I really enjoyed the battle system, and how it transitioned very seamlessly. The sprites and environments can be rather stunning for a 16-bit game. I think the only problem I had was that I think the game would look better on a bigger screen because playing on a DS lite kinda made everything pretty tiny. Also the game is really really easy, but hey, I don't find that a problem since I don't like grinding in RPGs. It still took me 22 hours to beat.
Speaking of emotionally charged stories. I recently bought The Walking Dead Season 1 pass on Steam for $14.99 during a sale. Oh man, these games, although they feel more like interactive stories to me, have some extremely good writing. I made it through episode 1 and 2 last week. Episode 1 introduces you to the characters, crazy shit happens in episode 2, and I just finished episode 3 tonight. I teared up a little after one scene, and there was one moment where I literally shouted, "OH FUCK! WHAT THE FUCK! NO!"  and threw my hands up to my face in shock and horror. My girlfriend came running in asking what happened. I had to tell her someone was just shot in the face that I cared dearly about.
At the start of Episode 3 I encountered a glitch that erased my saved decisions from the first two episodes. Fortunately, I found a way to fix the glitch with the help of forum goers on the TellTale Games message boards. I would recommend this game to anyone who is looking for a good story to sit through. It's a point-and-click adventure game, so you're basically just walking around and clicking things, but if you can look past that aspect, or dig point-and-click adventure games, I highly recommend playing it. I cannot wait for Episode 4 to come out.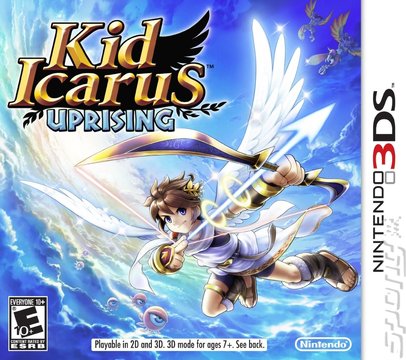 I bought Kid Icarus Uprising from BestBuy today. I probably won't be playing it anytime soon though. I got it because it was $15, but I had it shipped to my home in South Florida. I'll be playing it over the holidays.